The Culture - Entertainment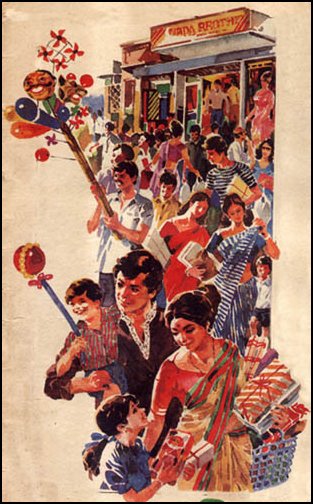 Bengal is famous for its culture - film, poetry, music, art and dance, all have their devotees here. Calcutta is a lively city where something is always happening, be it religious celebrations, concerts, cricket matches, theatre or movie festivals, or political demonstrations: and although decaying, the architectural heritage is still there.
Programmes are always listed in the daily newspapers and magazines, which inform people about the latest events and activities going on in and around the locality. Bengalis love watching movies, reading books, participating in music and dance functions, etc. A dance-drama performance, Bengali poetry recital, a
Rabindra Sangeet gathering, recitals on sitar and tabla or a similar event takes place on most days somewhere or the other.Calcutta's Rabindra Sadan always conducts some or the other programme on almost every evening all year round.Foreign films and restrospectives are shown at the Nandan complex nearby.
Musical programmes and drama performances are often held at the famous Kala Mandir in Calcutta. For 10 days at the end of January, the largest book fair is held at the Maidan and about the same time, the lively Calcutta festival held at the Maidan conducts various musical programmes and other cultural events and hosts plenty of ethnic food stalls. Bengalis love to go out on long trips to different places within Bengal as well as outside Bengal and they also love eating at restaurants and other fast foods at places like small road-side eat-outs and food vendors.