The Arts - Music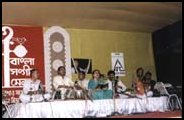 In Bengal, classical music is a distinct art form, immensely subtle, totally absorbing and in a way, highly sensual and exciting. It is quite free from the overpowering anguish and grandeur of western music.
Yet, a Bengali will sit cross-legged enthralled and enraptured in the endless succession of ragas. Much of it is improvisation but the conventions are such that the audience can revel in every development with the tense excitement of chess addicts following a match between Grand Masters.
One has only to witness a crowd of excited Bengalis chanting a bit of Tagore at a meeting or a function making the audience sway and also making a wave of passion and virility move over the crowd. Imagery has a powerful magic in Bengali. Song after song evokes the Bengali countryside.
For this Tagore has been called a nature poet, who evokes an image of a lush vibrant land, whose very name, Bangla, is a rousing, resonant cry, a land not so much of hope and glory but of beauty and tragedy which fills its people not with loyalty and affection but with a fierce longing. Bengal is the home of sitar music and the principal musicians are Bengalis. The various flavors in Bengali music are Rabindra Sangeet, Nazrul Geeti, Bangla Adhunik, Raagpradhan, Lok Geeti(Folk songs), Modern songs, Bangla Pop, Chhotoder Gaan(children's songs).
Baul is one of the few widely known and appreciated types of folk music in Bengal. Baul is not only a kind of music, it is basically a Bengali religious sect. The members of the sect are themselves called Bauls, and the songs they sing are named for them, Baul-gaan (Baul songs). Some of the great musicians of Bengal are: Pandit Ravisankar, Nikhil Banerjee, Manilal Nag, Ustad Ali Akbar Khan, Salil Chaudhary , Hemanga Biswas , Gauri Prasanna Majumdar, Atul Prasad Sen, Dwijendra Lal Roy , Rajanikanta Sen , Hemanta Mukherjee, Debabrata Biswas and Kishore Kumar.