The Arts - Drama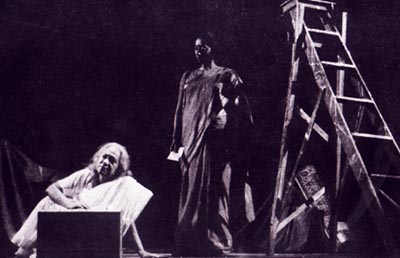 The history of Bengali drama needs to be analysed from the Vedic Ages. The complete structure of drama was manifested in the past Ramayana and Mahabharata days.
Bengali drama had originated following the footprints of the Sanskrit plays. Bengal proliferates with small, mostly amateur drama groups. Nearly all offices have their own groups. Productions tend to favor the melodramatic. Bengal has of late seen a tremendous revival of Jatra, the traditional traveling theater,
which requires only an open space to stage a performance. Experimental theater has its adherents but mainly of the sophisticated, for example, The Little Theater Group led by actor-director Utpal Dutt.The city of Calcutta came under the British influence being the capital of India (till 1911). English drama companies used to visit now and then and influenced regional folk theater known as Jatra(Jaa-traa). Parsi theater which was as imitation of the British theater in curtains, lighting and seating arrangement (proscenium) quickly caught up with Bengali intelligentsia.
Plays with mythological, historical and social themes began to make appearance and professorial troupes started traveling the whole state and the nearby regions. Stage was used to create social and political awareness. Slowly music receded, the emphasis being more on the factual story and happenings (operas were staged) whereas earlier music and dance formed essential part of Indian drama, the new theater had hardly any songs.
Educated groups came on the scene and enacted social dramas and regional versions of Shakespeare, Insen and Brecht. Rabindranath Tagore's plays so far considered unstage-able also made appearance. But the absence of music and dance led to lack of interest of the masses which was soon realized by the troupes. The earliest form of folk theatre, Jatra was revived and many modern plays appeared in Jatra form and caught up. Even the third theatre of Badal Sircar or taking theatre to masses (street plays) has started to include group music profoundly and have come to stay.