The Arts - Dance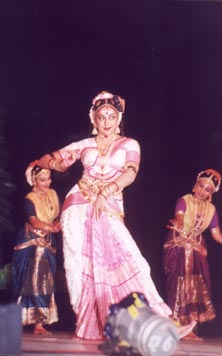 Bengal is proud of its rich cultural heritage. Many prominent people from all fields have contributed towards making it so. Uday Shankar inaugurated the creative form of dancing here.
Rabindranath Tagore, having seen the Manipuri dance, brought over the best Manipuri gurus and exponents to Shantiniketan in 1918. In May 1926, he presented 'Natirpuja', performed by girl students trained in Manipuri by Nabakumar Singh. It opened the eyes of the bhadralok to the new age of dance, and laid the foundation of what has come to be known as the 'Tagore School' of dance or Rabindrik dance.
The Academy of Dance, Drama, and, Music of West Bengal later grew into Rabindra Bharati University, housed at the ancestral mansion of the Tagore family at Jorasanko. Rabindra Bharati teaches all the six principles of classical dance forms, as well as folk dance and creative dance. The rising generation of Calcutta dancers promises to match it's predecessors' record.
Many young men and women of Bengal have already made their mark on the national and international scene.With an increasing interest in dance among the intelligentsia and more opportunities coming their way, the new generation is well geared to take up the challenges in the field of dance.
Daughter of Uday and Amala Shankar, Mamata Shankar is now an accomplished dancer and choreographer in India. Having her basic training in Bharatanatyam, Manipuri and Kathakali apart from Uday Shankar style of dance at the UDAY SHANKAR INDIA CULTURE CENTRE in Calcutta under the guidance of her mother Smt. Amala Shankar, Mamata, following the footsteps of her father has imbibed that rare sense of choreography, which apart from being highly imaginative is truly Indian in spirit - a chip off the old block!!