The People - Immigrants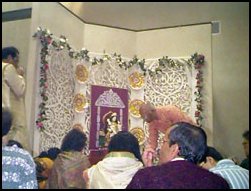 The Bengali people who have migrated to other countries and are permanently or temporarily settled there try their level best to maintain their original culture and traditions by gathering together on special occsions and celebrating important events like Poila Boishakh(Bengali New Year's Day), Durga Puja, Saraswati Puja, Kali Puja ,etc.
Once in a while, they host various programs to promote Bengali heritage and cultural awareness through
dance,drama,music, seminars and workshops. These assemblies provide an excellent opportunity for Bengalis and their children (second generation immigrants) to meet and know others from different cities and states with a common background. Parents and children participate extensively in every aspect of the festivals in a friendly environment.
By meeting each other, once a year, the Bengali children develop a strong bondage and cohesion among themselves; and develop more knowledge and interest in the Bengali culture and the land of origin. So, basically, these kind of forums and religious festivals are always held throughout the year in different parts of the world for social interactions of the Bengali parents and young generation of the neighboring places.
There are plenty of Bengali Associations all over the world wherever there are a handful of Bengalis. The mission of these Bengali Associations is to create opportunities to promote and provide quality educational, social and cultural activities within the Bengali community, and to give back to the community.
They also try to achieve the goals like creating awareness of the Bengali culture and history in the community, promoting cultural and educational activities in the area, providing community service within the area, providing a platform for social and business networking, promoting the involvement of youth in their various programs, and promoting cooperative programs with other community services organizations.