The People - Attire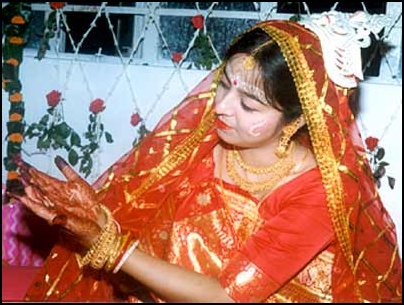 Bengalis just love to dress up in a prim and proper way. They always strive to look presentable. They have a unique way of dressing up just as the people of every other state of India.
The Bengali gentleman is usually seen wearing a white dhoti and a panjabi or a kurta and a pajama, only on special occasions, of course, maybe a festival or a religious ceremony at home or during marriage ceremonies, but most people just wear bush shirts or t-shirts and trousers or jeans as casual wear on a regular basis.
But,basically,the attire of a Bengali bhadralok(gentleman) is a cream silk kurta, dhoti and cream nagrai shoes.Most men keep moustaches and love smoking cigarettes. The Bengalis have distinctive personal habits, like a Bengali way of sitting,which consists of resting on your left hip and left hand with one leg drawn up.
Bengali women are charming, graceful, have lovely hair and complexion and usually wear sarees or salwar kameezes .Young women, especially school-going girls and teenagers wear blouses and skirts nowadays but in earlier days, every little girl had to wear a saree to school or college. Cotton and silk sarees are very popular among Bengali women. They love to wear lots of gold jewellery - earrings, necklaces and finger rings; especially married women are supposed to wear gold jewellery all the time.New brides wear red or maroon coloures banarasi sarees and lots of gold jewellery, and bridegrooms wear embroidered panjabi and white dhoti.