The Land - Geography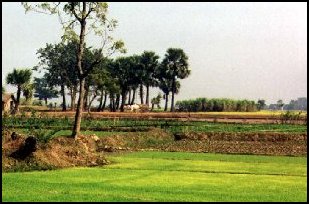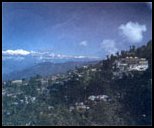 The state of West Bengal is long and narrow, running from the delta of the Ganges river system in the Bay of Bengal, to the south, up through the Ganges plain, to the heights of the Himalaya and Darjeeling in the north. On the east, it shares a long, rather blurred boundary with Bangladesh, in the Ganga-Brahmaputra river system.
Its capital, Calcutta, sprawls north-south along the eastern bank of the Hooghly river, which divides it from Howrah on the western bank.Apart from Calcutta, with its bewildering maelstrom of noise, beauty, culture, confusion and squalor, and Darjeeling, which is congested yet somehow still serene, West Bengal is relatively untouched by commercialism and tourism.
South of Calcutta on the Bay of Bengal is the area known as the Sunderbans, one of the largest deltas in the world, and home to the elusive Royal Bengal tiger.
To the north lie the flourishing mango plantations and jute fields of the fertile river plains. Farther north again in the Himalayan foothills are the world famous Darjeeling tea plantations. Although most of the lush scenery now falls in Bangladesh, there is sufficient in West Bengal to give some idea of its lyrical beauty.
India embraces a scenic variety quite as complex and fascinating as its social composition. Compared to the grandeur of the Himalayas or the charm of the South, Bengal might not seem remarkable. Its big difference lies in a gentle homeliness and in a passionate attachment this has evoked in the Bengali people.
The overall impression is of green luxuriance between well-kept brown fields and beneath a deep blue sky. Water is abundant and the light has a special clarity without the harshness of a summer in the North or the haziness of a sunny day in Europe. Even in the hottest weather, the air is moist and winter nights lack the penetrating chill encountered in Delhi.
The land is flat ; shade and shelter are plentiful. Not so long ago, Bengal was known better for its prosperity than its poverty and the dangers of famine are more than matched by the landís natural resilience and abundance.The state comes under high rainfall and receives about 100-200 cm/year. About 65% of the net irrigated area in West Bengal comes under canal irrigation. Kangasabati, Mayurakshi and Damodar Valley Corporation (DVC) are some of the important canal systems of West Bengal.
The state is the 2nd largest state in tea-production, as well as mineral production. Jute is a plant of the wet plains of Bengal. It is raised for its fibre. West Bengal is also well known for its textile industry. This holds importance because India is the world largest producer of jute. Some other industries that can be found in West Bengal are coal production; automobiles; railway equipment; heavy electrical equipment; industrial machinery; heavy machinery; electric motors; household electrical appliances; paper and paper board industry; leather and heavy organic chemicals industry.