The People - Traits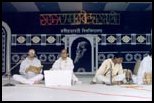 The Bengali people are usually intellectual, laconic, animated, spirited, argumentative, anarchic, imaginative, and creative. They have made Bengal the soul of India for more than 150 years now.
They were among the first to react to the intellectual and political stimuli of the West and have produced most of India' respected film-makers, writers, scientists, musicians, dancers and philosophers.
The erstwhile Bengali Babu(sir) is always delighted to engage in philosophical discourse upon the most esoteric subjects In spite of pressure from so many directions, the people of Bengal have retained a very nice sense of humor. This has probably been their only salvation. They seem to enjoy life in-spite of lots of chaos and troubles in their lives and their jolly and humorous nature and easy-going approach to life in the face of all odds is worth admiring.They love music and songs and thoroughly enjoy participating and attending musical programmes.
People are just crazy about cricket and football matches. Every Bengali, young or old seems to be a fan of either or both of these two games. Whenever India beats another country in a World cup final match, Bengal just goes delirious with joy and people spontaneously declare that day as a holiday. Calcuttans are so proud to be Bengalis, that when hometown bowler Saurav Ganguly was omitted from India's squad, cricket-mad fans boycotted the game at Calcutta's Ranji stadium. It is the kind of impetuous but intensely human behaviour which goes to make Bengal Bengal.